From the 19th to the 21st of June Dr. Stanley G. Love visited the University of Konstanz. On the first day he gave a lecture in the "Konzil" about his space walks during his eight days on the International Space Station (ISS) in 2008. As Love captivated everyone's attention the room was filled with students, members of the University, and citizens of Konstanz. Two days later "Campuls" and the university's podcast "9B" cooperated for an interview with Love.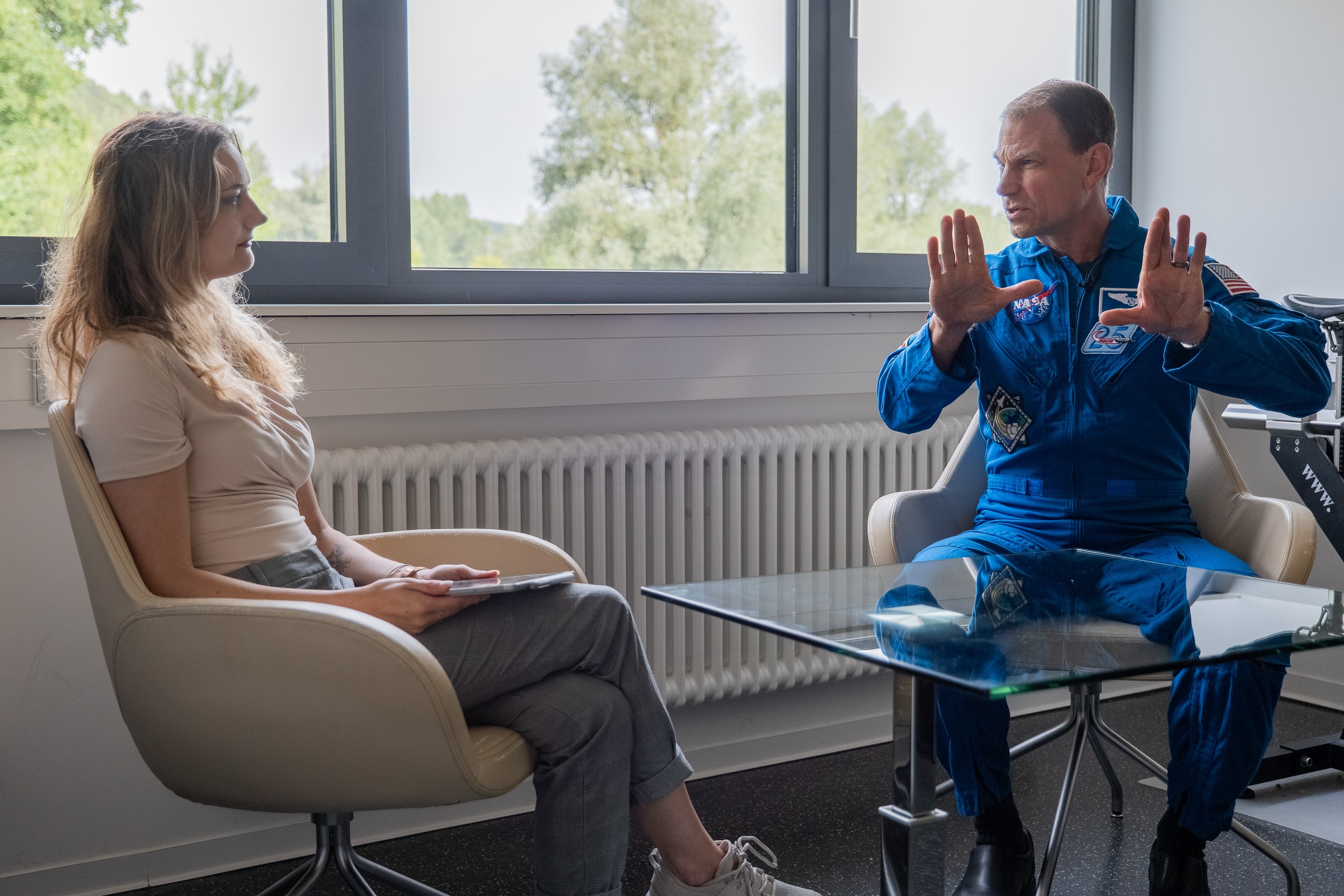 All of this is thanks to Dr. Maria Moreno-Villanueva, research associate in sports science. She met Love during her research stay at the Johnson Space Center and invited him to Konstanz. It is also worth mentioning that this accomplishment owes its success to NASA and Love, who imparted his vast knowledge and experiences.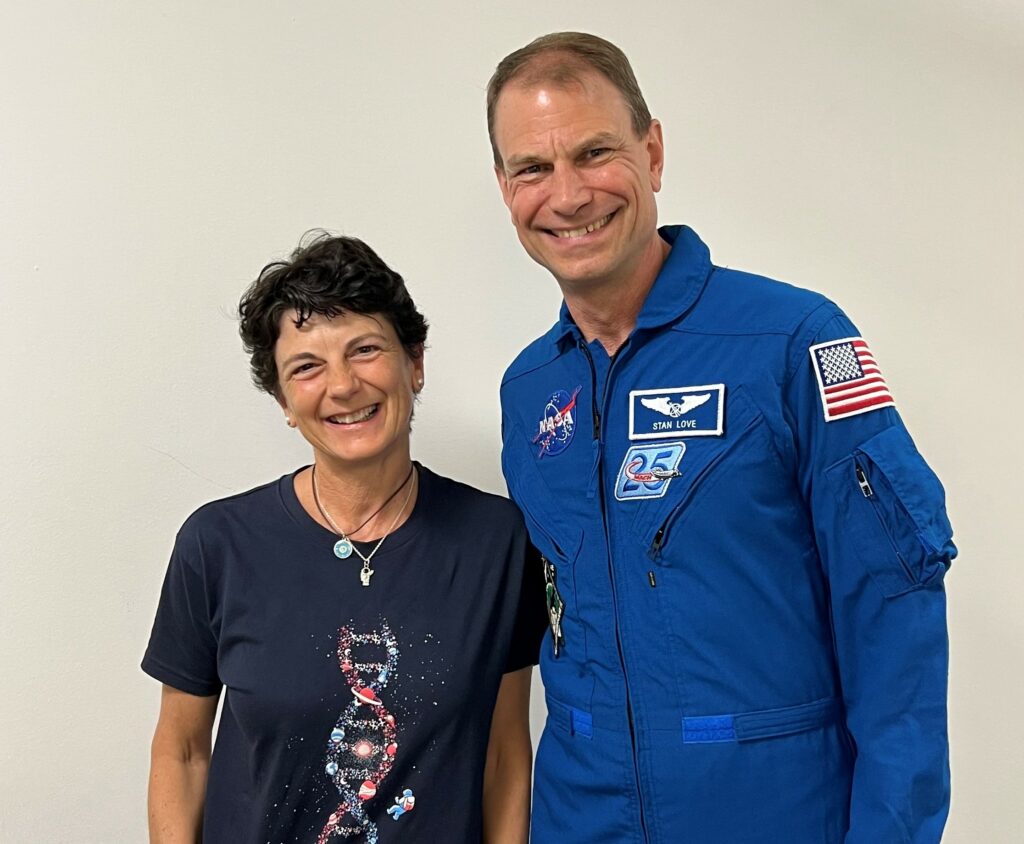 Once again, it seems like the stars aligned in peoples' favour. Love had to apply twice to NASA to be accepted, but from then on he started to reach for the stars and hasn't stopped. In the end the dream has become true and so he can conclude, "It's not a fantasy. You can actually do this." Besides his past achievements he is especially proud to be one of the few people who worked on the Lunar Gateway – a platform that hopefully will in a way succeed the International Space Station. Unlike the ISS, it isn't permanently manned, but rather will be used for humanity to return to the lunar surface and will serve as a staging point for deep space exploration. This is part of the Artemis Mission regarding the goal to establish a long term presence on the moon.
As ambitious this sounds, the the entire mission will take many years to successfully complete. In the meantime, many more people will follow in Love's footsteps to become an astronaut. "What I had to do to become an astronaut is not necessarily what you have to do now," he explains. The teamwork was less important back in the day when he was hired. Nevertheless the process to be accepted is challenging. Even if one gets accepted, the way to reach the stars will continue to be an a hard one. The on-going training is part of the job as well as the fact that not one day will be like another, "One of the things that I love best about my job is that there is no daily routine."
When Love tells his audience during the lecture about his personal career story, it is clear that in his case his choice of major led up to his career, "With physics I knew I could do anything." Physics has gotten him into NASA and into space, although he is currently a management astronaut, meaning he is not eligible for flights.
He made this decision because back then his children were still small and he didn't want to spend half a year apart from them. Instead of flying to space he explains, "My current job is designing displays of control for future spaceships."
"Part of my ground jobs has been designing and then preparing and then following the testing of those spaceships that we are using to go back to the moon. I've been working on them one way or another for almost twenty years."

– Dr. Stanley G. Love, NASA astronaut
The most surprising announcement he makes is that he recently has decided to hand in an inquiry to become an active astronaut again. "You don't have much sayin what you want to work on in a space mission. Your job is to do whatever the mission requires. But for myself, we now have a new spacecraft that is capable of flying to the moon and back and I would love to visit the moon if I have the chance." In case his wish will be fulfilled he would most likely know of his mission two years in advance, so the crew can learn to work together as a team and practise all the tasks they are about to perform in space. This potentially would happen during a mission that is part of the Artemis Program. The program will establish a long-term presence on the moon to prepare for missions to Mars.
As fascinating as his own career is, that doesn't mean Love's path is the only one. "Every astronaut will have an answer that is long but completely different from each other."
During his visit he emphasises the importance of transnational work. This is hardly surprising given that his 12-day spaceshuttle flight in 2008 put the European Space Agencies' Laboratory Model onto the International Space Station. "That's Europe's main hardware contribution to the International Space Station and it was also the gateway for European astronauts to start serving as crew members on the International Space Station."
His flight in 2008 included two spacewalks, which hasn't been something every astronaut got to do back in the day. Due to maintainance reasons nowadays the crew on the ISS is doing them regularly. Nevertheless, not only a spacewalk but the entire space shuttle flight is a remarkable achievement.
"Inside the cockpit the first thought is 'Wow, I'm floating in space!' and the second thought is 'I have to get to work right now.' Because we had a lot to do."

– Dr. Stanley G. Love, Nasa astronaut
However, science fiction has given many false ideas of what the work of an astronaut is supposed to be like. "Everything in space happens much much slower than in the movies." Also, astronauts have barely the same free time as is often portrayed. Their schedule is strictly clocked – probably as clocked as Love's visit in Konstanz was: during these three days, not only did he give a lecture, he also gave taekwondo lessons in the historic gymnastics hall of the university, met with employees of the sports faculty, was part of the seminar "Fitness in Space," took part in a barbecue for sports students, and was interviewed. "One of the things I have seen here that is interesting to me is the interdisciplinary approach of academic departments, where sports are not pursued solely for their own sake, but rather integrated for example with psychology or biology. I haven't seen this kind of correspondence at the American universities I visited", he summarises.
Love's visit to the University was strictly clocked. However, his visit and his tasks as an astronaut on Earth are still nothing compared to the immense pressure of being in space, especially on a spacewalk. Love recalls his spacewalks, "Most of the time in a spacewalk your work is right in front of you and all you see is metal but occasionally you can look up and be like 'Oh my goodness I'm in space'." He continues to talk about how every movement is predetermined by the crew inside the ISS. "When you're out on a spacewalk your brain is kinda on holiday so you don't think too much 'cause you wanna do everything right."
Luckily he executed everything correctly so that he could fulfil his task to add two science payloads to the outside of the station after delivering the European Space Agency's Columbus Module.
During this time he could also see what it was like to be up in space looking around. Even though the stars aren't visible due to the light pollution from the ISS, there is one other thing that might be even more impressive to see. "When astronauts have time off, which is not often, their favourite thing to do is to look at the Earth. The Earth is very beautiful. The Caribbean Sea, the blue colour, you don't see that anywhere else on Earth. It's just absolutely amazing." Then Love surprisingly adds, "For me being an astronomer I always thought everything interesting is out in space and then I saw the Earth from space and said 'No, the Earth really is more interesting than any other sight'."
For anyone on Earth that statement might be hard to believe, especially as ever since humanity has had the chance to gaze upon the stars we've been wondering and working towards space. But as for now, space is a deadly game. "Antarctica is the closest thing we have to being in space here on Earth." As unappealing as this sounds, the moons and planets we may one day reach are even more uninhabitable. Whereas the Earth is our home, and gives us so much more than just the essentials to survive. It is no wonder that Love concludes the question whether we will be able to live on Mars with the following statement: "My personal feeling is that we as humans are closely tied to our biosystem of our planet." Of course that does not mean it is impossible but there is still a long way until humanity will be able to live apart from Earth.
"I think when we have altered Mars so we can grow nectarines and go to the beach, then people will go to Mars."

– Dr. Stanley G. Love, Nasa astronaut
But until then there's still a long way to go and this path will take humans once again to the moon. One part of the Artemis mission is the "Lunar Gateway," often just called "Gateway." After realising that the ISS would not exist indefinitely, the international partners assembled a four-member team to develop the so-called Gateway, which aims to ensure long-term collaboration in space. Love is one of them. "I helped to invent the gateway so I hope everybody likes it. I was on the study team and we came up with what I think is a workable plan for a small station. Eleven months of the year the gateway will be unmanned and remotely controlled from Earth. We are implementing a variety of automation systems to test the automation for Mars, as we will be at a distance from Mission Control in the future that does not allow us to constantly call back when there is a problem."

In the meantime Love will hopefully visit more universities and enchant everyone with humanity's cosmic journey as his visit serves as a reminder that space remains a fascinating and unexplored frontier that continues to challenge and inspire us. His words and experiences are sure to leave a lasting impact on the audience, potentially encouraging young individuals to pursue their dreams of a career in space. In conclusion, Dr. Stanley G. Love's lecture and interview at the University of Konstanz not only provided knowledge and information about space, but also ignited enthusiasm and fascination for the exploration of the unknown. His visit will undoubtedly be remembered as a significant event in the history of the University and the city of Konstanz, as we eagerly anticipate new discoveries and adventures in space.